SY-014L Stealth Ogre - FINAL EPISODE Ver. -
Sturm Panzer - SY-014L Stealth Ogre - FINAL EPISODE Ver.
To accompany the final edition of the Sturm Panzer manga series, the original Stealth Ogre comes out of retirement for its final battle!
The Stealth Ogre, whose sharp performance potential put Sturm Panzer on the map, returns in fine form as the manga series comes to a close. Oftentimes, a reissue of an old model will be a slightly modified version of the original, as makers seek to tweak and improve upon their original design. But this Stealth Ogre is an exact rerun of the
same model released in 2013
. It's amazing to see how well Sturm Panzer's designs have withstood the test of time: they foresaw the spread of bimetal yo-yos, and were already pushing the numbers back in 2013. Of the 69 grams of body weight, 40 grams of it are found in the rim. Even in the 5+ years since the original release, the Stealth Ogre boasts some pretty impressive numbers. The only difference from the original are the decorative side caps.
Along with the Stealth Ogre coming full circle, the storybooks that have accompanied Sturm Panzer's throws for the past 6 years have also come to their conclusion.
From the Maker
The bearings are size C concave grooves. These are great bearings, but if you wish to upgrade, the only recommendation we have are proper Dif-e-Yo konkave bearings. Maintenance on your yo-yo are undertaken at your own risk!
The axle is a M4x10mm, identical to the one used in the SY-001 Stealth Ogre.
As for vibes, this yo-yo has the same specs as the original SY-001, and has the same potential for vibes. We do a final vibe check before installing the mirror caps, so all yo-yos leave the factory with our stamp of approval. The side caps are a special size, and are not compatible with the 48mm caps that are available separately.
Small cosmetic blemishes may be evident on the yo-yo, but are all results of the manufacturing process and have been tested to make sure they don't affect play.
Set includes:
Sturm Panzer Storybook #14 (size A5, 56 pages)
SY-014L Stealth Ogre Final Episode Version
Cap-removal suction cup
Brass rim polishing cloth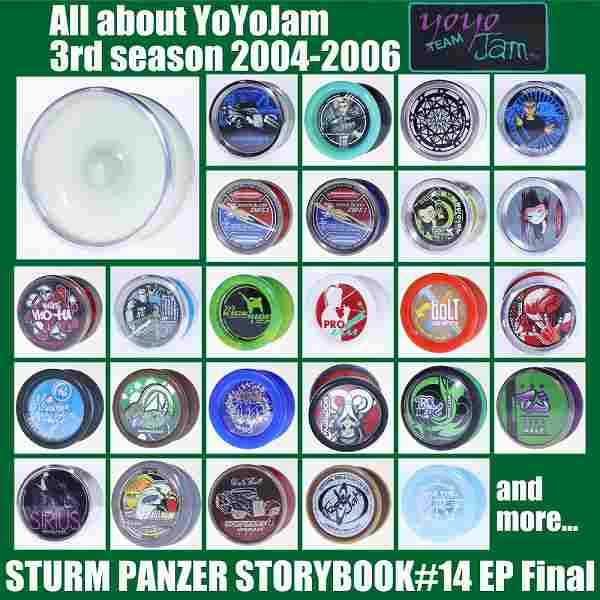 Details
| | |
| --- | --- |
| Manufacturer | Sturm Panzer |
| Series | None |
| Signature | - |
| Style | String Trick (1A, 3A, 5A) |
| age | Not Mentioned |
| Designed In | Japan |
| Release Year | 2018 |
| Weight (g) | 69.1 |
| Diameter (mm) | 56.87 |
| Width (mm) | 42.09 |
| Trapeze Width (mm) | 41 |
| Shape | H-Profile |
| Body Material | Aluminum Alloy (7075) |
| Rim | Brass |
| Bearing Type | Curved and Grooved |
| Bearing Size | Size C (Large) |
| Response | Original |
| Axle | M4 x 10mm |
| Twist-apart | Twist-Apart |
| Spacer | None |
| Bind | Bind Required |
| Surface | None |
| Maintenance | Pad/Sticker/O-Ring Change Required |
| Function/Gimmick | N/A |