[9th Anniversary Campaign] Slim Size Pad Pad Set
Slim Size Pad Set
This is a pad set of slim size response pads, favored by major yo-yo makers.
This is a sample set for different types of slim size response pads. As most players know, the type of pad usually refers to the hardness of the material, which has a huge affect on how the yo-yo plays. This set includes two pairs each of three different types. Each pair can outfit a single yo-yo, so you can get a good opportunity to test out and compare the playfeel of the different pad types.
Basic (White)
This is a "standard" setting that has a good balance between smoothness and grip, giving you good responsiveness for all types of string trick yo-yos.
Pro Soft (Green)
Stronger response! This pad gives exceptionally tight binds, and matches well with thinner strings.
Pro Hard (Blue)
Smooth as warm butter! This enhances lower-response play, and matches better with thicker strings.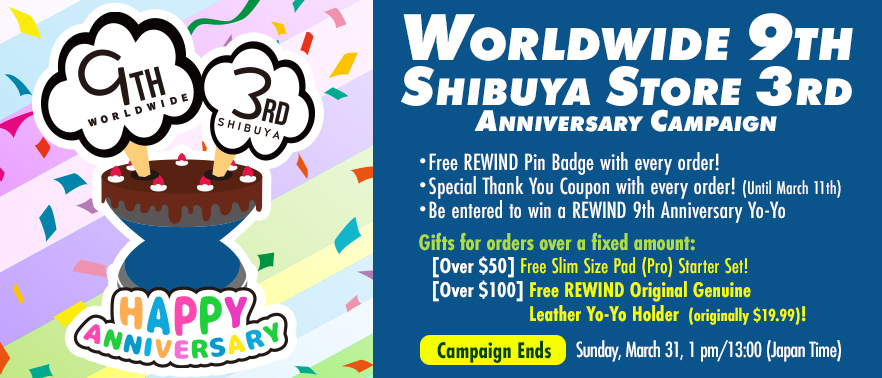 Our new non-brand response pads are growing ever more popular. Since these pro pads are "slim" sized, they fit most yo-yos in the current market, and with "soft" "standard" and "hard" options they make it easy for you to adjust to your preferred level of response.
We know it's hard to choose the right response pads for you and your yo-yos without first giving them a try, so we've put together a starter set to help you do just that. It contains 4 pads of each type for a total of 12 pads (enough to outfit 6 yo-yos in total). What would normally cost $15.94, you can get for the special set price of $13.99.
But wait! During our anniversary campaign period only, the starter set is on sale for $7.99!
Not only that, but if you place an order during the campaign period over $50, you can get a starter set for FREE!*
Don't miss out on your chance to try these new, awesome response pads! We love 'em and bet you will too.
*You must add the starter pack to your cart to receive the present. Your order must be more than $50 before adding the present to your cart. The price of the item will be subtracted from your order.