[9th Anniversary Campaign]REWIND Leather Yo-Yo Holder
REWIND Leather Yo-Yo Holder
A sleek and simple leather yo-yo holder, designed and handmade in Japan.
This is a high quality, hand-made leather yo-yo holder, made in Nagoya, Japan. REWIND teamed up with a local maker of leather specialty goods, with the goal of making a yo-yo holder that would enrich our yo-yo life with a touch of simple luxury. After many prototypes, we developed a great holder we think everyone can enjoy.
The button snap can be slid up and down the main strap, meaning it can be fitted to practically any sized yo-yo, even off string! The mechanism works like the finger hole in a yo-yo string, so the weight of the yo-yo actually tightens the loop by itself. This makes both mounting and removing yo-yos from the holster very easy and natural. For extra large yo-yos, you might need to undo the button to wrap the strap, as the loop will not fit over the whole diameter.
All the parts that touch the yo-yo are made of leather, helping protect your precious. With the metal accents of the belt clip and button, the leather holder is understated and attractive.
Because it's made of real leather, over time the straps will take on the natural "flavor" that leather earns over time. As you use your strap, over time the aged leather will become more and more unique to you. This is a yo-yo holder that will become your beloved sidekick.
*Due to the nature of the materials and manufacturing process, at first your holder may seem to shed a small amount of black powder.
*Please note that extremely large yo-yos are not compatible with this holder. It is meant for standard butterfly shapes, and not for looping or imperial shaped yo-yos.
*The yo-yos in the product photos are for demonstration only, and do not come with the holder.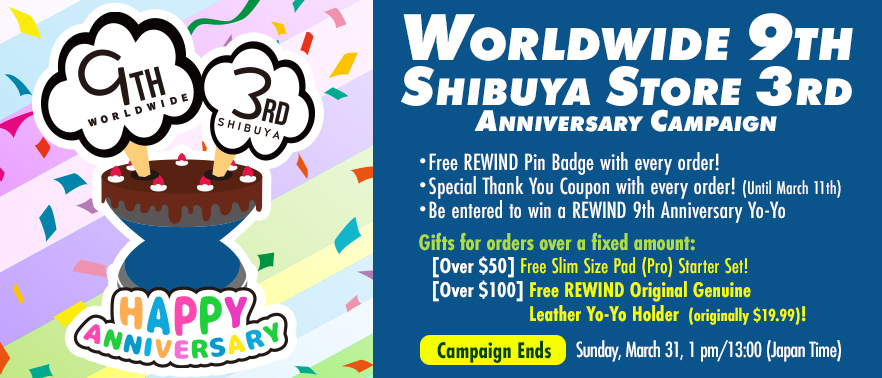 They're finally available! REWIND original genuine leather yo-yo holders!
While we have the privilege of introducing new luxury yo-yos every week, there were not very many options for holders to carry those good looking yo-yos, until now! We sought out the best suppliers of good, quality materials and construction, and landed on "Shokido," a handmade leather goods speciality brand.
The holders are made with high quality Japan made leather, and all areas that touch the yo-yo are fully leather material to prevent any damage to the yo-yo. Of course, they are all hand made by skilled Japanese craftspeople.
You can also enjoy the aging of the leather while using them with your favorite yo-yos, as they will develop a unique look as you use them.
We will offer these leather holders at a special deal price of $15 (instead of the regular price of $19.99) during the anniversary campaign period.
Moreover, we will give one free to everyone who places an order over $100.
Get one and try our brand-new leather holder!
*Please make sure you add the holder to your cart in order to receive it for free. The price of the holder will be deducted from the cart if the order price condition is met. Limit one per order.